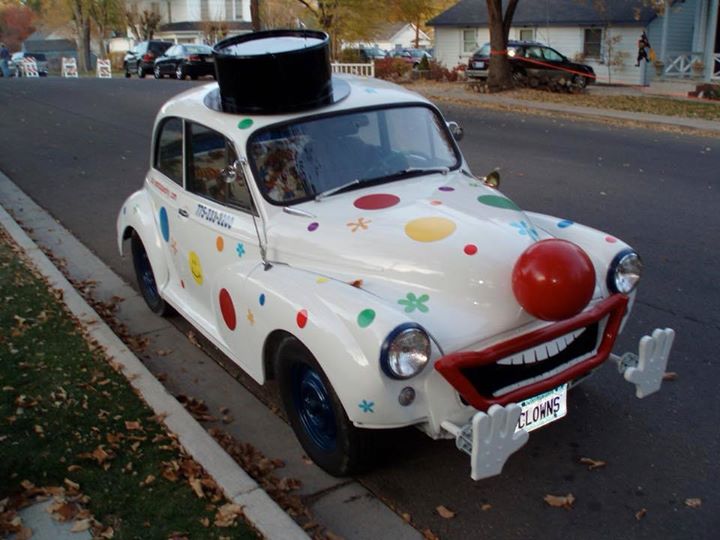 Looking for a really unique vehicle that will garner a lot of attention? One that will have your neighbors asking, "What's in that Bozo's driveway?"
Well, quit (start?) clowning around and check out this 1957 Morris Minor named "Clarabelle." She's just $7K. The wind-up key, polka dots, light-up red nose, and flower boxes are all included:
One-of-a-kind automobile! Seen in many parades, TV and events. She has been on display and honored at the National Auto Museum and at the International Clown Convention. Eight years in the making. Lovingly built in Northern Nevada by a professional clown family. Custom glitter paint. Top hat opens to wave at the crowds in a parade. Rear flower pot bumpers. Moving hand-carved silver colored "skate key." Light inside red nose. Hand carved white hands in front and hand carved steering wheel.
Thanks, Jared!
The Advocate reports that three suspects are being sought after a robbery in Baton Rouge, one of them dressed in a clown hood: "Ernie Ballard III, a spokesman for the university, said three men robbed a student of an iPhone outside of the dorm building before fleeing the area.He said no one was injured."
Instagram user Lonseometown9 documents their ongoing series of street art that transforms dumped sofas, chairs, and televisions into sad clowns.
Like it or not, clowns are "in" these days. (Fwiw, I blame that new IT movie.) Now, thanks to San Francisco clothing maker Betabrand, clowns are both "in and out." Their "Clowna Sutra" men's shirt takes its inspiration from the Kama Sutra obviously, but features more red noses, wigs and oversized shoes than the original. […]